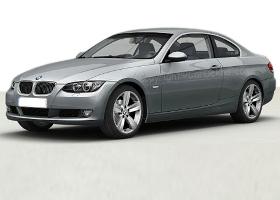 BMW has launched two new variants under its 3 series sedan category. BMW [ Images ] India [ Images ] president Peter Kronschnabl launched BMW 320d corporate edition (diesel) and the BMW 330i (petrol) as the two new BMW 3 Series sedans.
The cars are being manufactured in the company's Indian plant and would be available across its 17 dealerships.
According to Kronschnabl the BMW 330i would cost about Rs 33.4 lakh (Rs 3.34 million) and the BMW320d corporate edition would cost about Rs 23.95 lakh (Rs 2.39 million).
Kronschnabl is quite positive about maintaining the growth story of BMW in India and was heard saying, "In 2008, we sold 2,908 cars which grew by 24 per cent in 2009 to 3,619."
BMW has lots of expectations from the BMW 320d corporate edition. According to Kronschnabl, "Though 330i is available now, we think our growth will be driven by the corporate edition variant. We hope we will be able to sell couple of hundreds of the car (corporate edition)."