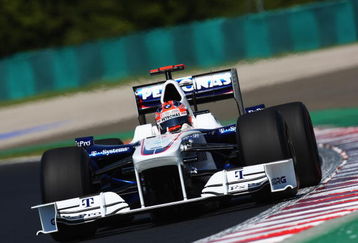 Last season BMW Sauber driver Robert Kubica was in the mix for the F1 World Championship right up until the last few races of the campaign.
The title ultimately went to Lewis Hamilton, after a last minute win at the Brazilian Grand Prix, which broke local hero Felipe Massa's heart.
One of the reasons why Kubica was not given the opportunity to chase the 2008 World Championship was because the BMW Motorsport hierarchy decided to concentrate the efforts of the team on the construction of the BMW F1 09.
A decision that, with hindsight, was an extremely bad one.
So far this season BMW have struggled at the back of the grid constantly.
Although all Formula 1's heavy weights have struggled with the raft of technical regulations brought in at the beginning of the season, Ferrari and McLaren have continued to try to upgrade their cars to give their drivers the best chance of doing well.
BMW seem to have written off 2009 just as they wrote off 2008.
Today, at qualifying for the Hungarian Grand Prix, both Robert Kubica and Nick Heidfeld failed to make the second session and will start tomorrow's race from 16th and 19th place on the grid.
BMW are a classic example of thinking too far forward. They planned too far ahead and have paid the price for not considering every factor.
This season will have been a big lesson for them.
Because of their decision to concentrate on 2009 in 2008, they failed to win anything and now with 2009 pretty much a write off as well they will soon be planning for 2010.
BMW spent too much time on technology that did not live up to the hype made, namely KERS.
In a time of global recession, which has hit car manufacturers badly, the likes of BMW will have been left counting the pennies and dreaming of what might have been.